Large Bathroom / Sauna
In the big city of Osaka, it is very rare to find a large communal bath in a hotel. Enjoy a moment of relaxation in our luxuriously spacious bath to get over travel fatigue! You may also be able to communicate with fellow guests!
There is separate bathroom each for gentlemen and ladies. Please be noted that there are certain rules for bathing in a Japanese-style communal bath.
* Click here for more information about bathing etiquette.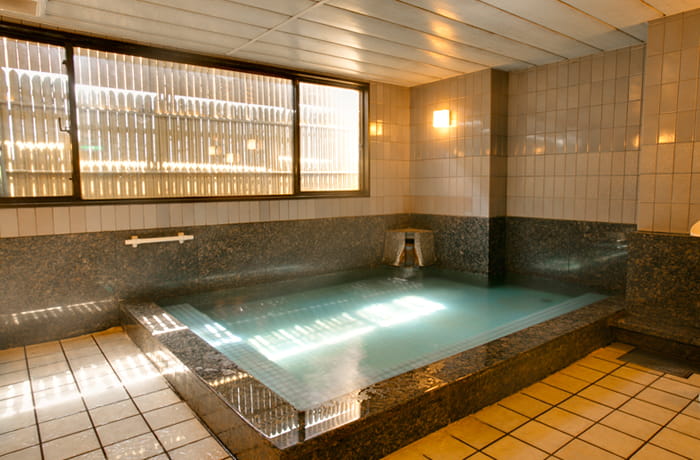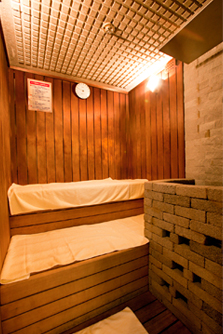 Large Communal Bath
This bathroom is designed to use in Japanese way of bathing.
The airy and spacious bathing area is ideal to relax and ease the weariness of your journey.
The bathing area for ladies is equipped with baby beds.
Sauna
The bathing area for gentlemen is equipped with a sauna room.
After the healthy perspiring, your beer would taste twice as good!
Operation Hours: [Morning] 6:00am - 9:00am / [Evening] 3:00pm - 1:00pm
Sauna Room (for gentlemen) Operation Hours: 4:00pm - 11:00pm
Capacity

178 Guests

Number of Guest Rooms

39 Guest Rooms

Banquet Rooms

"Musashi Room" (For 50 guests), "Yamato Room" (For 40 guests), "Akagi Room" (For 15 guests)
"Tone Room" (For 15 guests), "Yunagi Room" (For 25 guests), "Urakaze Room" (For 25 guests)
*The"Musashi" and "Yamato" rooms can be combined to accommodate up to 100 guests.

Bathrooms

For gentlemen (with sauna) / Ladies

Public Facilities

Tearoom and lounge ("Ichou") / shop / smoking room